---
Last Revision
OCTOBER 2016
new items

ROSARY SUPPLIES - 1 of 1
(Wire, Crimps, pliers, cutters)
ROSARYWORKSHOP.COM

PRINTABLE
CATALOG # 23
(no paper catalogs)
---
TO ORDER ANY ITEM,
CLICK IMAGE OR LINK PROVIDED


SUNSHINE POLISHING CLOTH
THE BEST ONE WE HAVE FOUND,
LASTS FOR AGES! GREAT TO HAVE AT HOME
Safe to use on Gold, Silver, Brass, Copper, Bronze surfaces.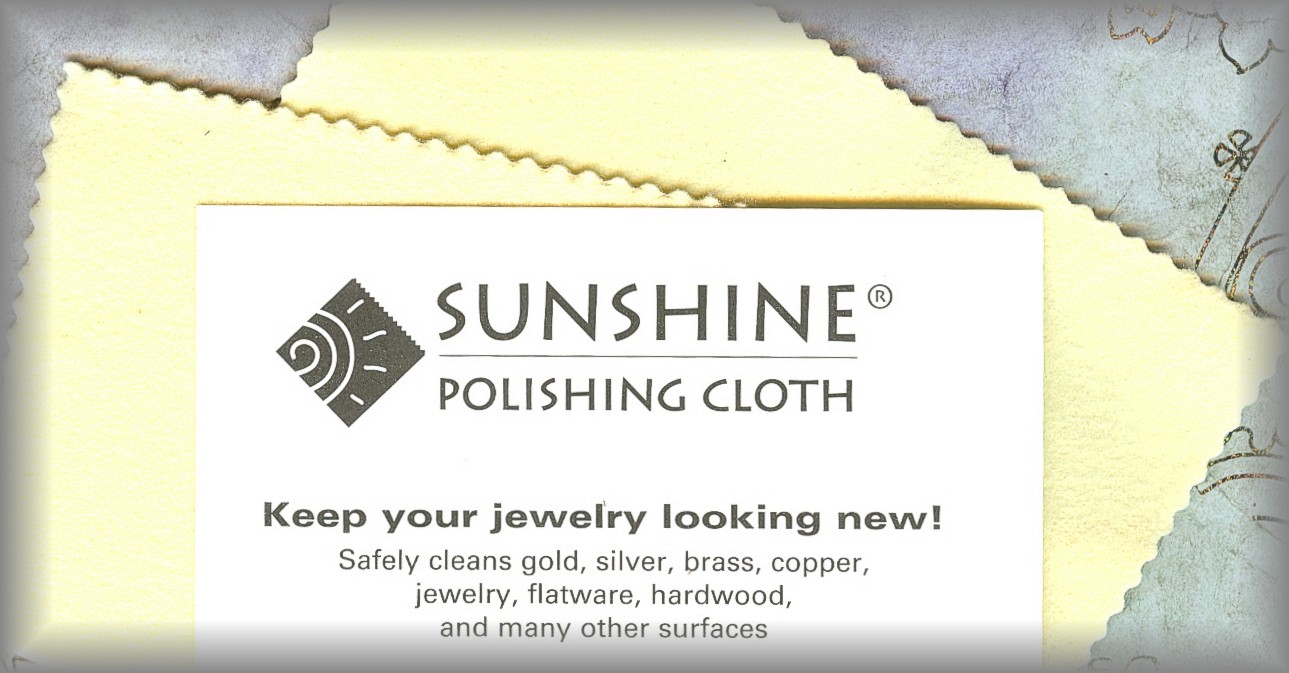 SPC.100 - (5 x 7.5 in - 1 PER BAG)
Keep your metal components refreshed by rubbing surface to be polished with medium pressure. Special polishing and cleansing action works until cloth is completely darkened and then some! We use these at the Rosary Workshop and love the finish it gives. (Do not wash cloth.)
+
CLEANING TIPS:
Since our metals are cast by hand from antique pieces by several casters, the colors do not always match exactly. And various batches that come from the casters are not always the same. We have found this cloth helps bring most bronzes and silvers together.
+
FINE STEEL WOOL
We also use a very, very fine steel wool (#0000+) which takes care of the heavier jobs and will not hurt the surface of the metals and helps give a satin finish to some of the shinier surfaces. Keep both on your work table. Available at most hardware stores.
+
SPC.100
(pricing & order)


+
JEWELERS CALIPER BEAD GAUGE
WONDER HOW TO CHECK FOR AN 8 OR 10 mm BEAD?
(we like this sliding gauge best)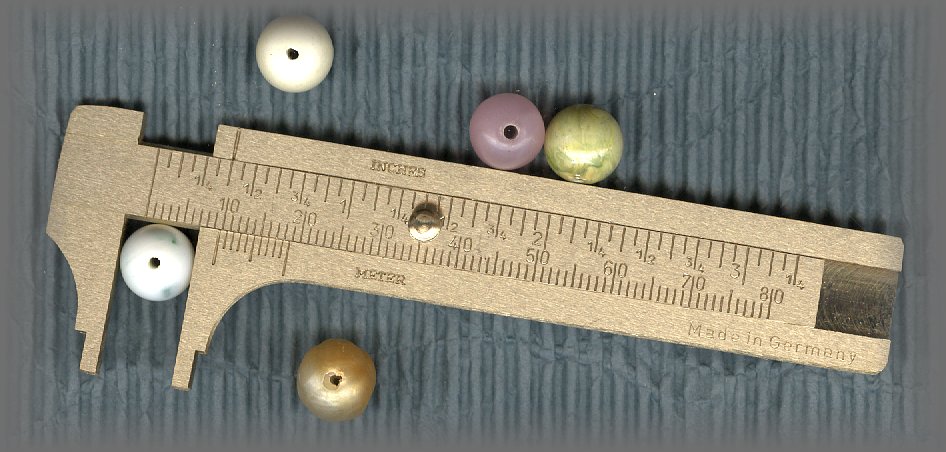 WILL MEASURE MM AND INCHES
Measures up to 80mm - 3.4 inches - (note image above is measuring a 10mm bead)
+
Hard to find - High end , made in Germany
+
JBG.80 (series)
(pricing & order)


+
.019 SOFT FLEX WIRE
SILVER (clear) - BRONZE - BLACK OX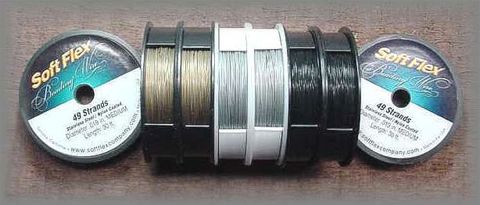 30 & 100 FOOT SPOOLS
Available in clear (silver), golden bronze and black oxidized. This state-of-the-arts wire is made of 49 strands of Micro Stainless Steel wire (20-lb test) coated with nylon. Very supple and knottable. (We use Softflex to make our rosaries - match color to your metals, or use black when using black beads )
+
TSF.30/100
(pricing & order)

+
CORRUGATED CRIMPING BEADS
2 mm CRIMPING BEADS (.019 wire)


SMALL (5 gram) & LARGE (1 oz) POUCHES
WE USE THESE IN OUR WORKSHOP
5 Grams - (approx 150 beads) We searched a long time for crimping beads that were clean and did not break or become uneven when crimped. And now make them available to you.
+
BLK OX IS OUR FAVORITE
General rule : Match your wire to your medals, crimps to the wire. (PS. We only use the blk ox unless working with a very very light bead series as they have a tendency to visually disappear from sight.)
+
TCB (series)
(pricing & order)


+
CRIMPING PLIARS
CRIMPING PLIERS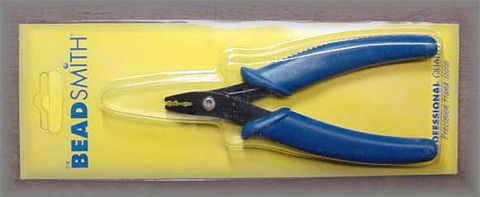 WE USE THESE IN OUR WORKSHOP
A must for crimping corrugated beads to secure your wire. Don't try crimping without them as these pliers create a 'bead' - (see instructions on how to use them below.) You will love the way they give your crimps a professional finish. (We use these in our workshop.)
+
TCP.1
(pricing & order

+
ECONOMY SIDE CUTTERS
ECONOMY SIDE CUTTERS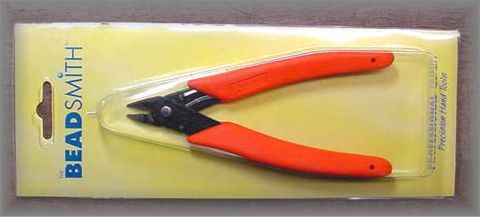 GREAT FOR LIMITED USE
Soft Flex Wire is so strong that it will eventually wear down the best of cutters but these will give you good serice if not abused. Rust-free, made of hardened stainless steel with removable coil springs and lap-joint construction. (We used these economy cutters in the workshop for years until we discovered the Professional side cutters ' flex shears' below)
+
TSC.1 (economy)
(pricing & order)

+
PROFESSIONAL SIDE CUTTERS
K.H. LEE 'FLEX-SHEARS'
(comes with a lifetime warranty)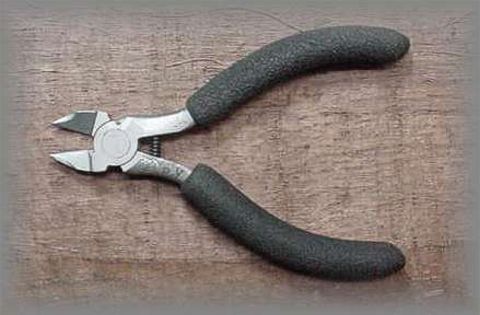 WE USE THESE IN THE WORKSHOP
We believe these are the best side cutters available. Especially tooled for use on Soft Flex type wire. Each signed by designer (K H Lee). Comes with a lifetime warranty for sharpening or replacement if ever necessary. Padded handles, kinder to hands. (We use these in the workshop now to get a cleaner and more professional flush cut.) Designed to cut at the tip only.
+
TSC.P2
(pricing & order


+
CRIMPING INSTRUCTIONS
SECURING WIRE
To Secure Soft Flex wire use crimping beads:
+
1. Finish work: by threading crimping bead onto wire.
2. Loop wire through end ring: then back through crimping bead.
3. Carefully/slowly pull wire into place: release tension a bit for some play.
4. Secure wire into place by crimping bead: with crimping pliers (see below).
+
FORMING CRIMPING BEAD
To form a tight, well shaped crimped bead always use crimping pliers. Note shape of two areas for crimping. (For proper crimping - make sure you hold pliers so curve points towards you and perpendicular to wire)
+
1. Inside 'crimper' - folds bead into a 'c' shape as it tightens and secures wire.
2. Outside 'folder' - flattens and folds bead back onto itself.
3. To round bead off - turn bead 1/4 turn, crimp again.
(Instructions on package)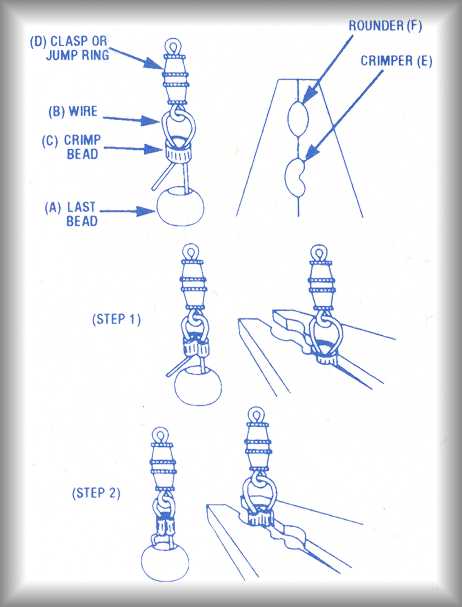 For our USPO ordering friends and customers,
please include a PRINTABLE MAIL ORDER FORM linked below:
---
---
VIEWING THIS PAGE ONLINE?
ORDER DIRECTLY THROUGH SHOPPING CART BELOW
ROSARY SUPPLIES - PC # 23