---
| | | |
| --- | --- | --- |
| Revision - May 2003 | ROSARY MAKING SUPPLIES CATALOG | rosaryworkshop.com |
---
NEW & LOWER PRICES AS OF 4 APRIL 2003
SOFT FLEX WIRE
SILVER (clear) - BRONZE - BLACK - .019
Available in clear (silver), golden bronze and black oxidized. This state-of-the-arts wire is made of 49 strands of Micro Stainless Steel wire (20-lb test) coated with nylon. Very supple and knottable. (30 foot spools)
+
TSF.30.019.silver - $17 now $15 - TSF.30.019.gold - $17 now $16
TSF.30.019.blkox - $17 now $16
CUTTERS, PLIERS & CORRUGATED CRIMPS

SIDE CUTTERS
We use these economy cutters in the workshop. Soft Flex Wire is so strong that it will eventually wear down the best of cutters. Rust-free, made of hardened stainless steel with removable coil springs and lap-joint construction.
TSC.esc. - $12
CRIMPING PLIERS
A must for crimping corrugated beads:
TCP.1 - $16 now $14
CRIMPING BEADS
5 Grams - (2mm - for .019 wire)
TCB.gold.2mm - $6
TCB.silver.2mm - $6
TCB.blkox.2mm - $7
CRIMPING INSTRUCTIONS
SECURING WIRE
To Secure Soft Flex wire use crimping beads:
+
1. Finish work by threading crimping bead onto wire.
2. Loop wire through end ring - then back through crimping bead.
3. Carefully/slowly pull wire into place - release tension a bit for some play.
4. Secure wire into place by crimping bead with crimping pliers (see below).
FORMING CRIMPING BEAD
To form a tight, well shaped crimped bead use crimping pliers. Note shape of two areas for crimping. (For proper crimping - make sure you hold pliers so curve points towards you and perpendicular to wire)
+
1. Inside 'crimper' - folds bead into a 'c' shape as it tightens and secures wire.
2. Outside 'folder' - flattens and folds bead back onto itself.
3. To round bead off, turn bead 1/4 turn, crimp again.
(Instructions on package)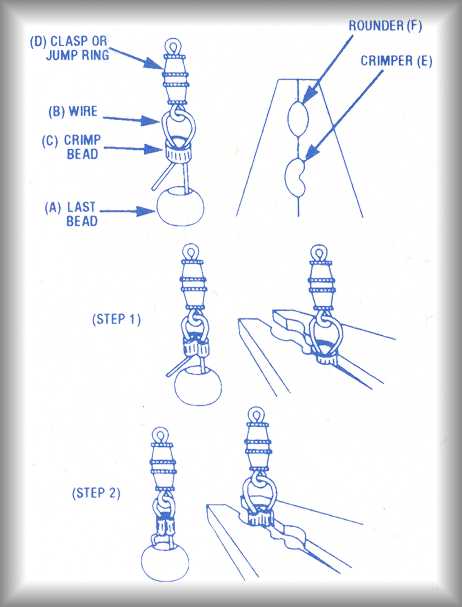 (this Catalog prints off @ 3 pages)
For our USPO ordering friends and customers, please include a PRINTABLE MAIL ORDER FORM linked below:
---
---