rosary workshop
RESOURCES for ROSARY MAKERS
LOOKING FOR OTHERS WHO MAKE ROSARIES?
Do you make or repair rosaries? Need resources? Have supplies you are not using? Donate them to rosary makers so thay may use the parts. Old rosaries, too, even if rosaries are missing parts, they are still valuable and it is important to give them new life and send them to missions!

WANT TO TALK TO OTHER ROSARY MAKERS?
EXCHANGE IDEAS AND RESOURCES?
JOIN OUR NEW LIST
ROSARY_ MAKERS
EMAIL LIST-SERVICE
To join the new Rosary_Maker's group, click on the link above.
(If you still belong to the original RosaryMakers list, please change over)
MISSION STATEMENT FOR ROSARY_MAKERS
HOW TO JOIN
PLEASE VISIT
OUR FAVORITE LINKS
FOR UPDATED, SUPPILERS ETC.

IF LISTED ON OLD SITE,



~ DISCLAIMER FOR OLD LIST ~



PLEASE MOVE TO NEW LIST
1999 - 2003
Please be aware that the Rosary Workshop is unable to control the contents of ROSARYMAKERS Members List Service which we began in 1999 through Yahoo. Through an unexpected deletion of one third of our website in 2002, the password was lost. And of course with this, the ability to moderate and filter email was lost, too. Without this ability, the site was overrun by spammers and porn and people with their own personal agendas.
+
Since we are unable to control the contents of ROSARYMAKERS we refuse to be responsible for its contents. We do not support the people who have taken over this site for their own personal use, nor do we support the spammers or the porn. Please accept our deepest apologies for any inconvenience this may have caused. We are still trying to have a new password reissued by Yahoo so we can either delete the site or rename it for a new service. We regret our name is still attached!
+
A NEW LIST WAS BORN IN 2003
We abandoned the ROSARYMAKERS site and established ROSARY_MAKERS in 2003, which is where we are now. We are over 300 strong 3 new moderators led by Maria (Via Rosa). Many of these professional rosary makers, like Maria, are dedicated to and work with other rosarymakers. Many are dedicated to making mission rosaries and give their rosaries to our troops and to missions throughout the world. The older members encourage the newer members through support, sharing of resources and praying for one another. We hope you will join us at ROSARY_MAKERS and meet this remarkable group of men and women who make rosaries because they want to!
+


PLEASE CHANGE YOUR LISTING



~ ROSARY_MAKERS EMAIL LIST ~



TO OUR NEW ADDRESS IF NOT
ALREADY DONE
+
MISSION STATEMENT
The basic mission of the Rosary_Makers List Service is 4 fold: SUPPORT, SHARE, ENCOURAGE and PRAY with other rosary makers. This site is basically for people who make mission rosaries to give away and for those who craft rosaries to sell
1. SUPPORT – by answering questions on design and technical problems including how to make rosaries and chaplets. Help identify unfamiliar bead configurations.
2. SHARE - information and resources with others who are just beginning or need help. (Links to venders, suppliers, etc). Where to send Mission rosaries.
3. ENCOURAGE - one another when they get discouraged. Post images of completed rosaries making them available for sale. (If an item is sold through this site, all proceeds should go to the artist.)
4. INTERCESSORY PRAYER - in hours of need. This includes the sharing of Inspired Scripture, Inspired Prayer or a poem that is brief and Christ Centered. In consideration of busy readers, subject matter should be identified as such.
We believe rosary makers should not be in competition with one another in any way as we are each called into this ministry by powers greater. We are all working for the same God and the same Goal, to eventually bring Peace into the hearts of individuals so that Peace will reign in this war torn world. Blessings Margot Blair for the Rosary Workshop

PLEASE CHANGE YOUR LISTING



~ JOIN ROSARY_MAKERS ~



TO OUR NEW ADDRESS IF NOT
ALREADY DONE
Exchange ideas and information.
+
DELETE OLD LIST
Please note we have moved to a new list because of porn. We were unable to filter incoming mail from the old (RosaryMakers) 'one1list.' (See disclaimer above)
+
JOIN NEW LIST
We are now able to filter incoming mail and those who abuse the list will be blocked. Please change your listing so you may continue receiving mail at the new address (Rosary_Makers).


Click here to read the archives.
PAGES FROM AN ANTIQUE MEDAL DEVOTIONAL LOCKET/BOOK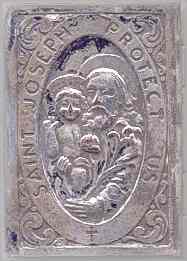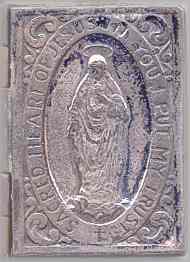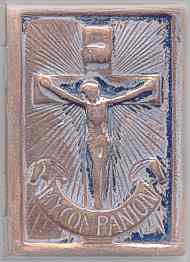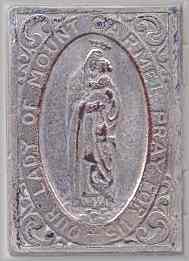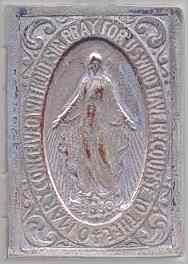 THAT FOLDS UP TO THE SIZE OF THE MIDDLE PANEL (COVER). WHEN
FOLDED IT IS - 1in x 1.5 in. AGE / ORIGIN UNKNOWN




.