SEE THE NEWEST IN THIS SERIES
+
MOTHER of GOD
(Madre de Dios) - Latin America
(hands of Mary,untying knots)
MEDAL
MOTHER of GOD / HANDS
(Mater de Dios) - Latin America

REVERSE - MADRE NUESTRA
(Our Mother, protection) 1.5 in
EMK.1246.b - $see cart
EMK.2146.s - $see cart

CENTER
MOTHER of GOD / HANDS
(Mater de Dios) - Latin America

REVERSE - MADRE NUESTRA
(our Mother of Protection) 1.5 in.
ERC.MK.1249.b - $see cart
ERC.MK.1249.s - $see cart
(better view of image)
+
for catalog info GO TO PC_16.mk go to
PC_16to see more dedicated to Holy Family
ROSARY CENTER
Untier of Knots ceter available in sterling, bronze at casters now
email for silver prices
not in cart yet
+
ALL ITEMS NOW AVAILABLE
(for more information, pricing or to order)
GO TO PC_16.mk
+
ROSARY CENTERS
(for better view of image click icon)
for catalog info go to
PC_16.mk
+
MEDALS
(for better view of image click icon)
for catalog info go to
PC_16.mk

OUR LADY WHO UNTIES KNOTS
(N.S.DESATANUDOS)
REVERSE: ruega por nosotros" - (pray for us)
| | |
| --- | --- |
| EMK.1236.b | EMK.1236.s |
(for better view of image click icons)
for catalog info GO TO PC_16.mk go to
PC_16to see more dedicated to
Holy Family
+
ALSO KNOWN AS
MARY, UNTIER of KNOTS
+
A FAVORITE DEVOTION OF POPE FRANCIS
In the 1980's Archbishop Jorge Mario Bergoglio, S.J. (nowPope Francis) saw the painting of Mary, Undoer of Knots at the church of St. Peter Perlach (Augsburg Germany). He was so deeply touched by this devotion, he brought it back to Argentina where it grew in popularity with the people. Now, we are made more aware of its history thanks again to Pope Francis.
+
INSCRIBED PRAYER
Over the years, Cardinal Bergoglio, (now Pope Francis), would include a holy card of Mary, Undoer of Knots in his correspondence. Inscribed on the beck was the following prayer:
+
"May evil never ensnare you in its chaotic web…May you [Mary] act as an example of how to unravel the knots in our lives and help us through difficult times with simplicity and patience, through the intercession of Your Son."
+
AND HE REMINDS US
"All of us have knots in our hearts, failings and all of us go through difficult times. Our good Lord, who bestows grace on all His children, wants us to have faith in Her; he wants us to entrust the knots of our woes to her, the knots of our miseries that prevent us from reaching God, so that She can untie them and bring us closer to His son Jesus. This is the meaning of the icon." Pope Francis

for more information see:
HISTORY OF KNOTS
see more new parts arrivals
+
also now available:
as a medal or rosary center
' LADY of the ROSARY'
("I am the lady of the Rosary')
FATIMA MEDAL

M.OLF.02 - ( Fátima- 1.25 in.)

FATIMA CENTER

RC.76 -( Fátima - 1.25 in.)
(for better view of image click icons above)
for catalog go to: MEDAL: PC_16
ROSARY CENTER: PC_3
+
also now available:
'3 JESUIT SAINTS'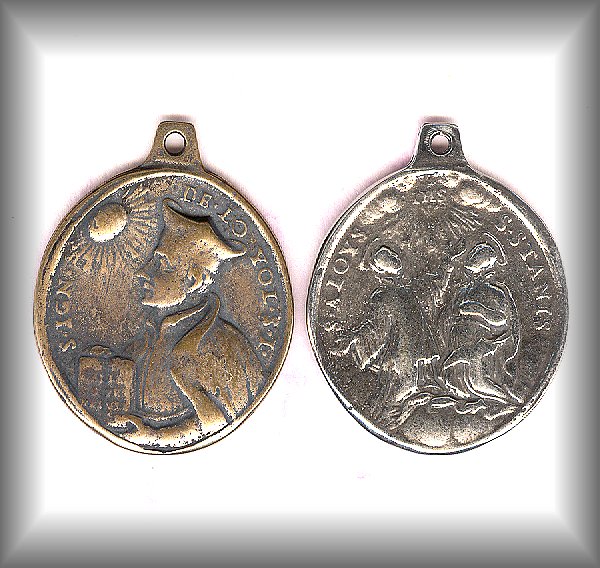 M.STI.01 - (St Ignatius - 1.5 in.)
(Sts Ignatus, Gonzaga, Kostika)
early - 1700s - Spain
(for better view of image click icons above)
for catalog go to: MEDAL: PC_18
+
ST IGNATIUS
Founder of the Jesuits, St Ignatius of Loyola SJ (1491 - 1556) (reverse) St Aloysius Gonzaga SJ (1568 - 1591) and St Stanisalus Kostika SJ *1550-1568). (Cast from an early 1700s antique medal.) The Jesuits - order of Pope Francis.