HAND MADE ROSARY BEADS
celebrate the year of faith, Follow Mary,
Our Lady of Guadalupe, star of the New Evangelization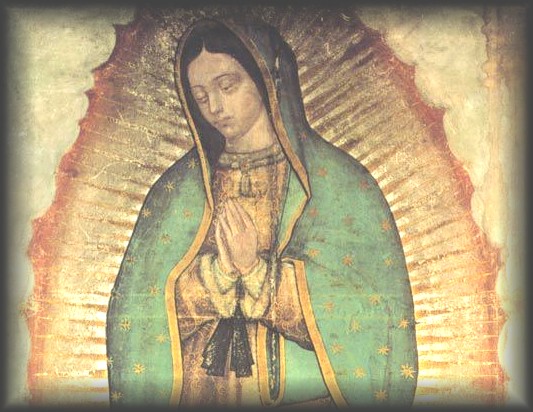 ROSARY WORKSHOP
'Do not be troubled or weighed down with grief. Do not fear any illness or vexation, anxiety or pain. Am I not here who am your Mother? Are you not under my shadow and protection? Am I not the fountain of life? Are you not in the folds of my mantle? In the crossing of my arms? Is there anything else you need?' (Words spoken by the Patroness of the Americas - to Juan Diego on December 12, 1531)

SEE OUR NEW SALE ITEMS (LINK BELOW) - LIMITED.
CELEBRATING AS WE ENTER OUR 13th YEAR ON THE INTERNET
HEIRLOOMS FOR MANY GENERATIONS - ITEMS IN LIMITED COLLECTABLE EDITIONS
(NOTE EDITIONS AS 'I, II, III, IV, V') - UNABLE TO REPLACE WHEN GONE.

ABOUT US - AND WHAT WE DO
MUSEUM INSPIRED: Rare, one of a kind collectable Rosaries, Chaplets and Religious Jewelry constructed to last many lifetimes. RARE BEADS: We use antique beads, precious stones, faceted pearls, fossilized corals, natural materials and handmade beads from American artists. HAND CAST METAL SUPPLIES: All metal components used in our pieces are available individually. Each one is hand cast in solid bronze and sterling silver from antique and vintage pieces. (Your only retail source on the internet for these crucifixes, crosses, religous medals and centers.) Dedicated to Our Lady of Guadalupe - giving visual glory to God.
+
WHAT IN THE WORLD *IS* GOING ON?
The Middle East, terrorism, weather, natuarl disasters, war, abortion issues, squabbling politicians, and now the stock market, something is going on. And what are we doing about it? We either talk about it or bury it deeply in our worry box. But do we pray? Do we trust? Do we pray the Divine Mercy Chaplet? The Mysteries? The Lord says:
"Behold I am with you till the end of the world'' (Mt 28)
Do we trust him?
JERUSALEM (Madaba Map - late 6c)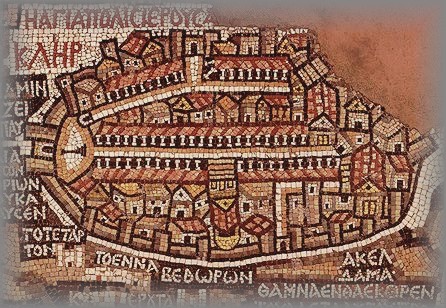 Pray for the peace of Jerusalem. May those who love
you prosper. (Psalms 122:6)
+
2 God, do not be silent; God, be not still and unmoved!
3 See how your enemies rage; your foes proudly raise their heads.
4 They conspire against your people, plot against those you protect.
5 They say, "Come, let us wipe out their nation; let Israel's name be mentioned no more!"
6 They scheme with one mind, in league against you ---
--- 19 Show them you alone are the LORD, the Most High over all the earth.
(Psalms 83:2-6,19)
+
ROSARY WORKSHOP
ober 2005, then will be delete


This site built and maintained by TECHMAN SERVICES