Rosary Workshop - Handmade Rosaries - Repair
REPAIRING ROSARIES
Rosaries seem to fall apart a lot. Hopefully it is from use. We repair many chain rosaries as they are often not well made. The wire we use is very supple and very strong. The results have been astonishing to us as we were not certain how these rosaries would look all beads and no wire even though strung rosaries have a very very long history behind them.
See their rosaries:
Anitra - Mary - Peter - Laurenne
Dr Weilert - Kristen
ESTIMATES FOR REPAIRS





~ ANITRA'S ROSARY ~


BEFORE: ANITRA'S ROSARY IS A SPECIAL SOUVENIR FROM
ROME USING THE 4 MAJOR BASILICAS IT WOULD FALL APART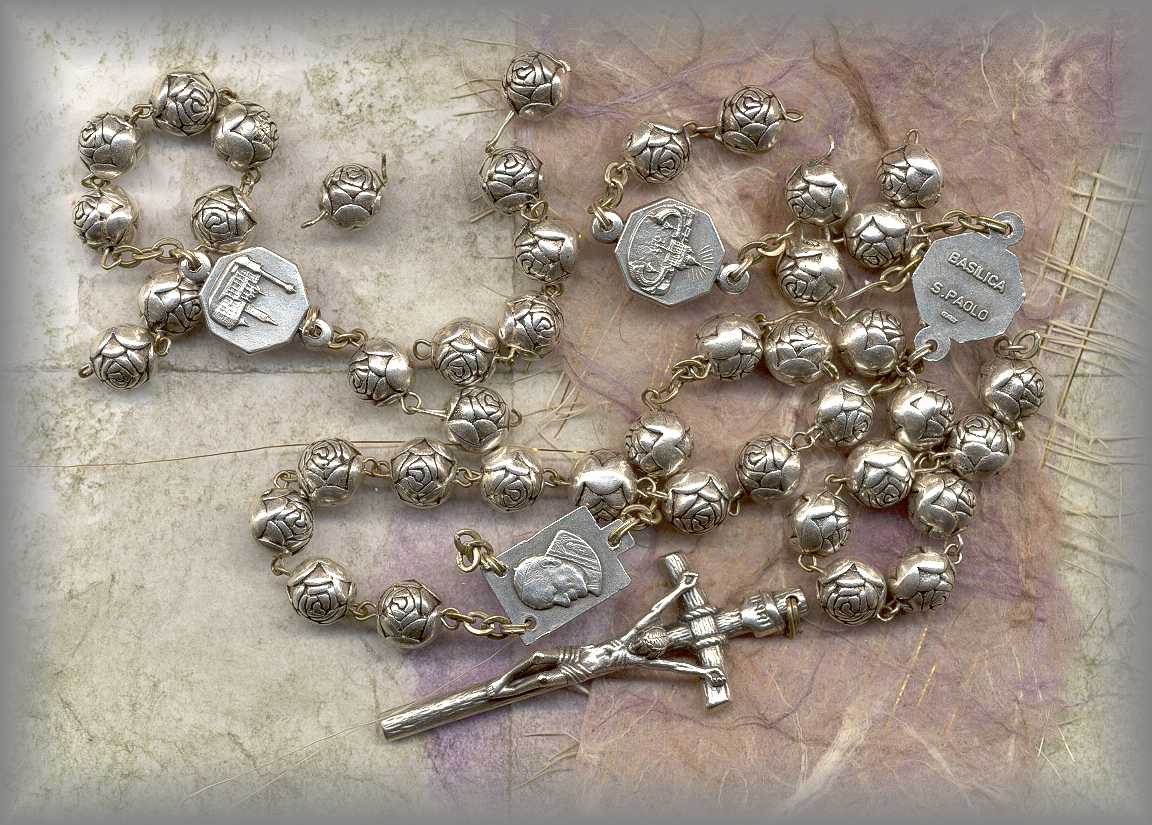 WHEN SHE PRAYED. AFTER:WE RESTRUNG IT USING GOLDEN



HUES TO ENRICH THE ANTIQUED SILVER METAL ROSEBUDS.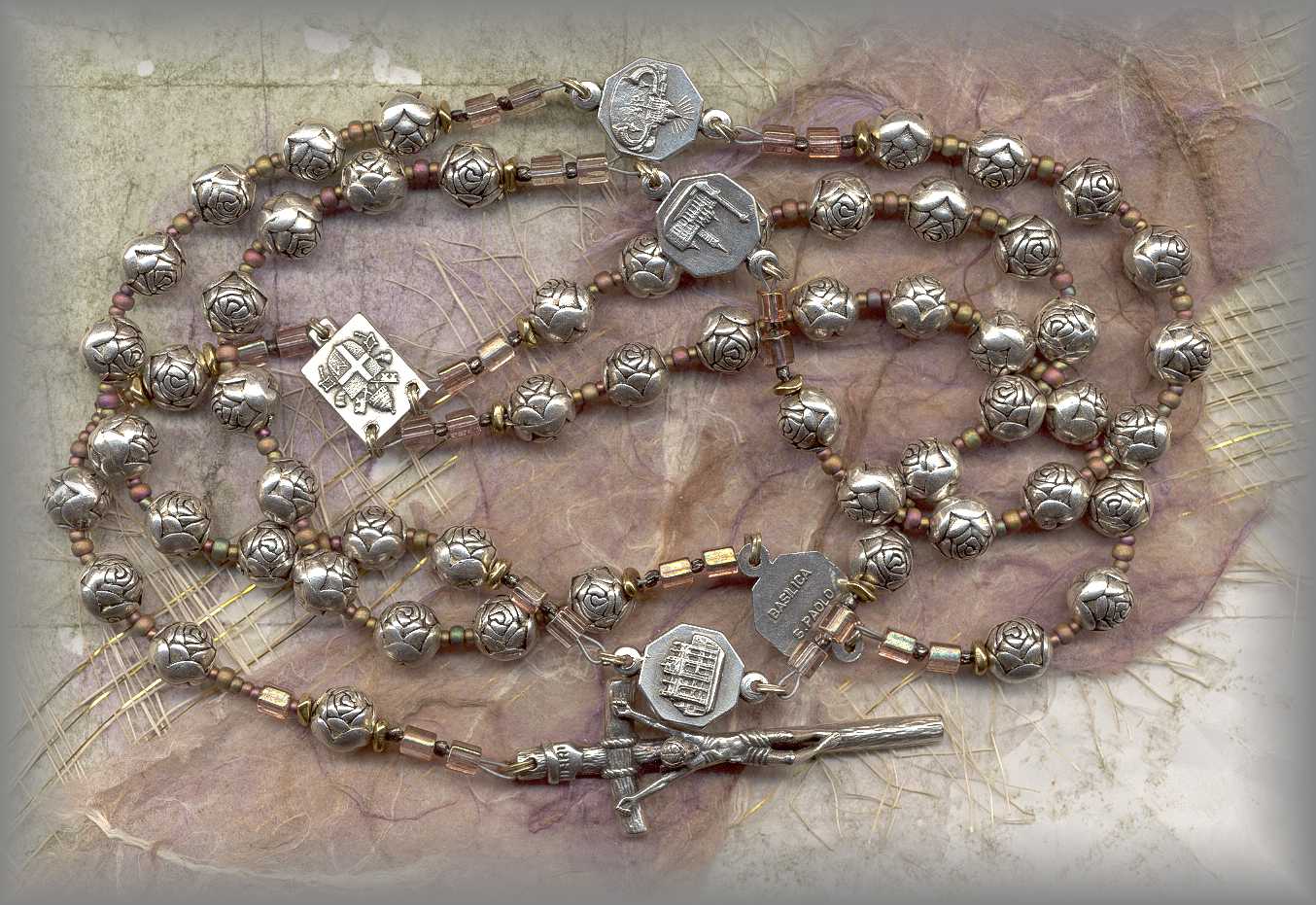 THE CRUCIFIX IS THE ONE CHOSEN BY THE HOLY FATHER.





~ MARY'S ROSARY ~


MEDJUGORGE - ROCKS FROM APPARITION HILL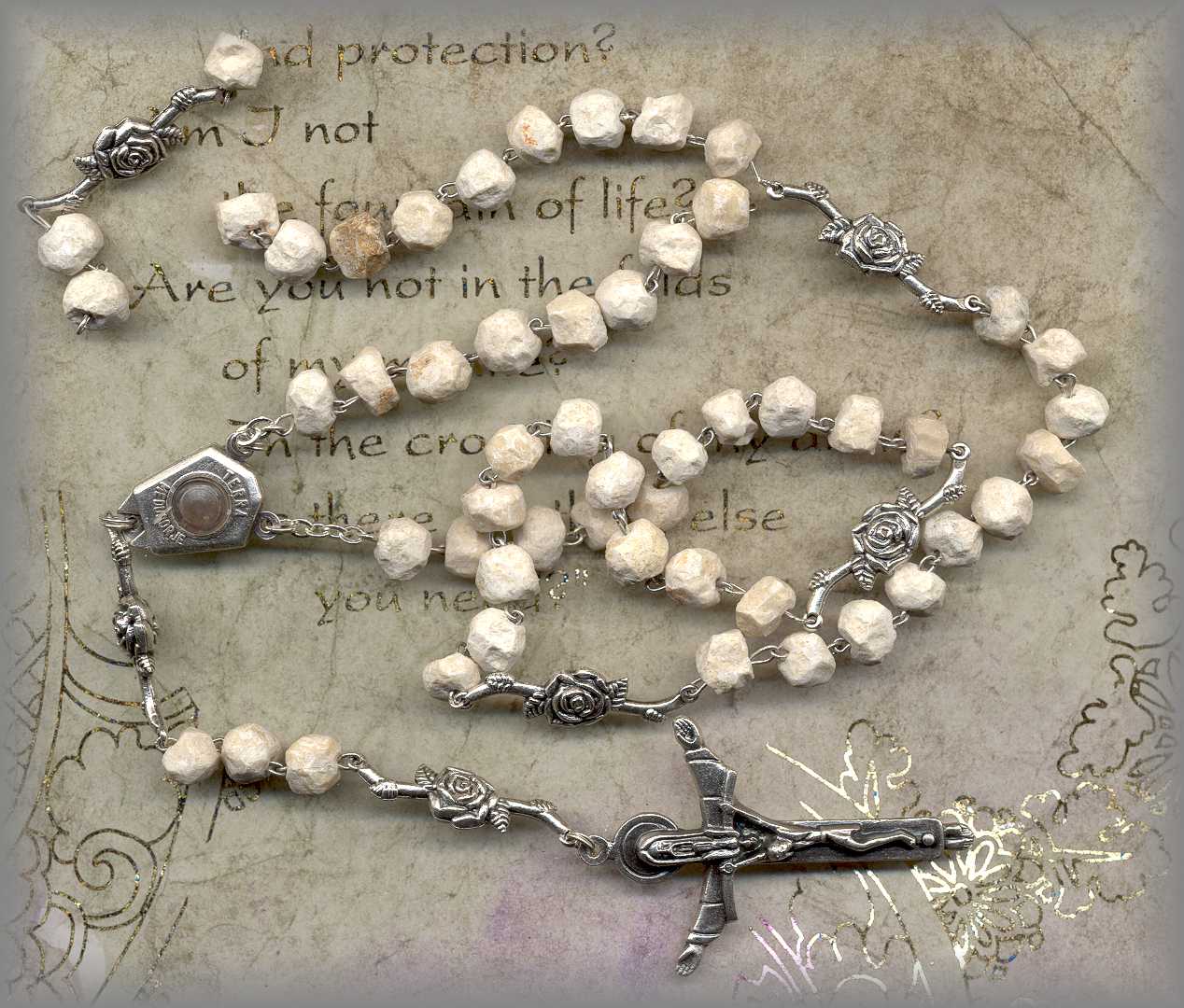 A very special rosary given to Mary by a friend who visited Medjugorje - but every time she would pray it, it would come apart so she asked us to restring it so she could use it without being concerned about it coming apart. So we did!


HERE IS MARY'S REPAIRED ROSARY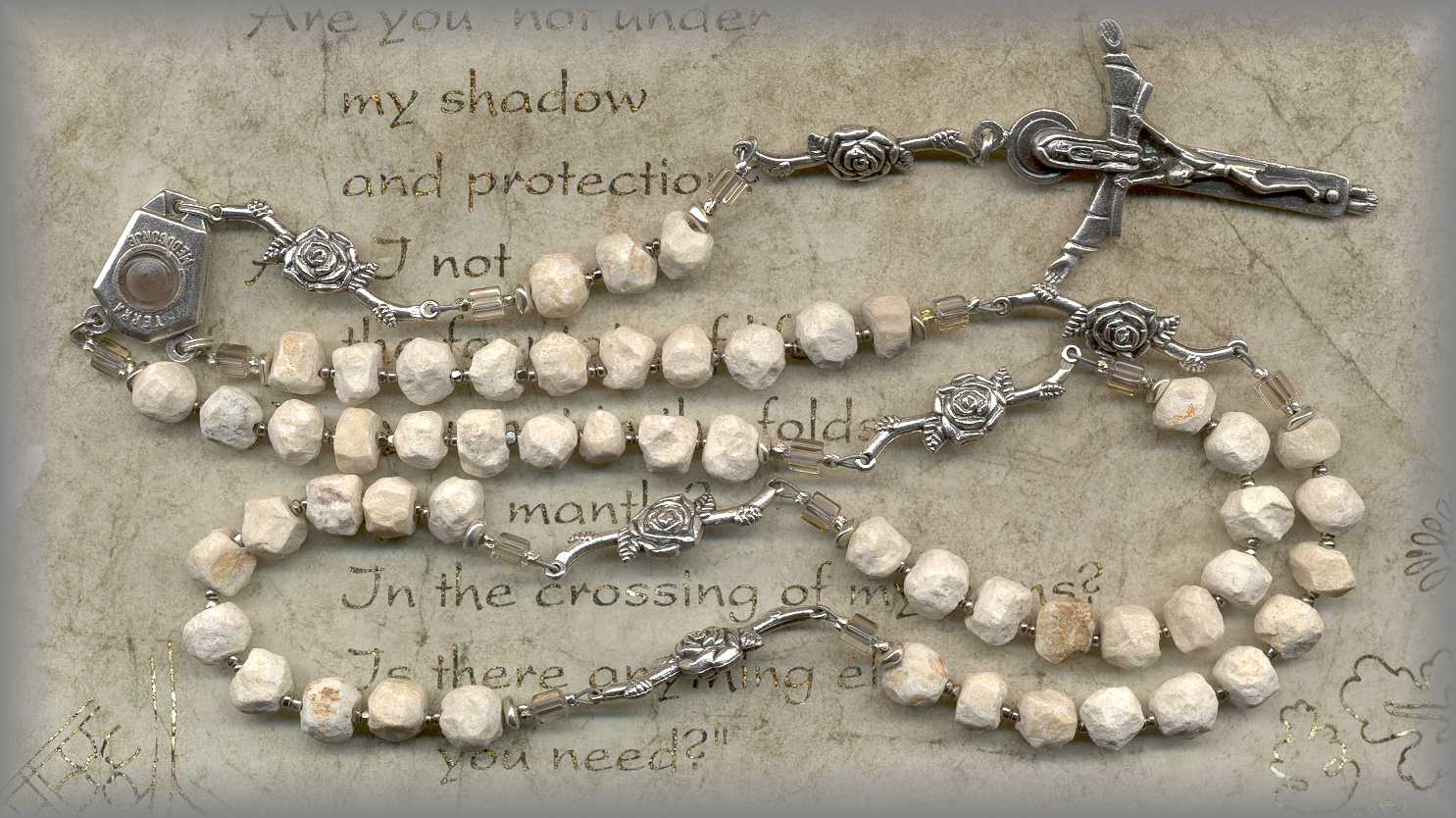 We used faceted silver seed beads for spacers and a beautiful 4 x 4mm iridescent tube to turn and secure the crimping bead process. Now a very strong and very useable yet very much like its original design. The interesting rosebud Paters, crucifix and reliquary center were not replaced.





~ PETER'S ROSARY ~


A WOODEN ROSARY WITH A HISTORY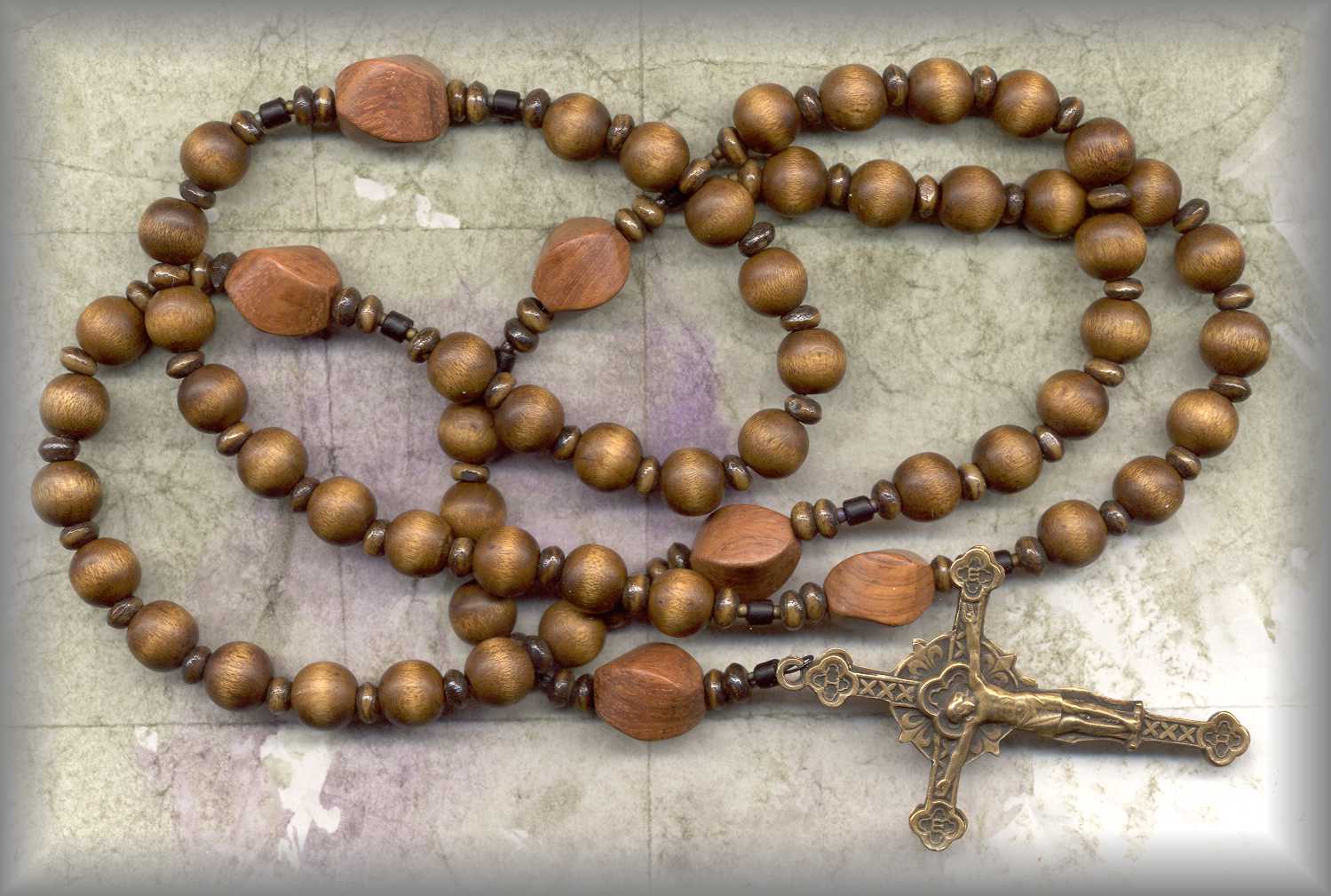 Peter's rosary came to us strung on a broken white cotton cord. It was knotted between the decades. One bead was missing so we replaced all Pater beads with exotic wood and used natural spacers between the Aves. We are very excited about how it came out. A wonderful way to keep a rosary with special meaning.





~ LAURENNE'S ROSARIES ~


SHE SENT A WONDERFUL SELECTION OF HAND MADE BEADS

| | |
| --- | --- |
| | |
LAURENNE WROTE
I got my rosaries on Saturday. They are so beautiful! You know, when I originally sent you the beads, I was sure that the red one was going to be my favorite. And, it certainly is outstanding, but the clear one has such a subtle beauty that I am totally enamored with it. The many imperfections in the clear beads remind me that Jesus loves me despite my many imperfections. I must say that I could never in a million years have come up with the beautiful combination of beads, centers, and crosses that your workshop put together to make the rosaries. True talent! Thank you so much.





~ DR WEILERT'S ROSARY~


DR WEILERT SENT HIS MOMS OLD SILVER ROSARY

| | |
| --- | --- |
| | This precious silver bicone rosary was in need of repair. One bead was crushed so we replaced all the Pater beads. We used an old gold filigree bead and the results astonished us. |
DR WEILERT WROTE:
Praise Jesus! WOW! Thanks! Mom absolutely LOVED her "reconditioned rosary!" She gasped, "This will have to be my 'Sunday rosary' if there is such a thing!" Our Lord has blessed you with a remarkably inspired ministry!





~ KRISTEN'S GARNET ROSARY ~


ONCE A BEAUTIFUL GARNET NECKLACE

| | |
| --- | --- |
| | |
KRISTEN WROTE
Dear Tilma Full of Rosaries Guild: I just received the rosary you did for me, and I wanted to express my appreciation on doing such a fine job. It is a true keepsake that I will have the pleasure of enjoying everyday. Thank you and God Bless
MORE RESPONSES ...
When I opened the package, I couldn't believe how beautiful they were - they were more like a work of art than the plain-jane beads I originally set to you. I can't begin to tell you how pleased I was. A thought struck me when I was praying my rosary before the Blessed Sacrament ( and showing them to the Lord) - that those rosaries were like me - and all of us. We come to Our Lady an unstrung sack of ordinary beads and somehow, through the power of the rosary and the grace she obtains for us, she not only restrings us, but makes us into something uniquely beautiful! We are transformed - just as you transformed my rosary. thank you VERY much. I love them!
Janis C. (PA)

... AND COMMENTS
I am glad that someone is attempting to put these old rosaries back in use. My mother is a very devout Catholic who says the rosary often. Her rosary, while not as old as this one, is well-used and well-loved. When handling rosaries, I often wonder about the person who used to own it. It warms my heart to find an old rosary with its beads worn down to almost nothing...how close to Mary and God that person must have been, who used (and cherished) such a rosary. Leslie R (AR) Antiques Dealer



~ ESTIMATES on REPAIRS ~


WE RESTRING OUR ROSARIES FREE OF CHARGE
WHEN BROKEN UNDER NORMAL USE.
FOR OLD ROSARIES, OR ROSARIES OTHER THAN ROSARY
WORKSHOP ITEMS, THE FOLLOWING FEES APPLY
AS OF 12/26/07
PLEASE NOTIFY US BEFORE SENDING ROSARY FOR REPAIRS
We are unable to re-string rosaries if beads are under 6mm. Please email a description of condition first (missing parts, replacing crucifix, center, missing beads, etc) so we may respond accordingly. Once we see the rosary or chaplet we will email estimate for your approval before starting repair. (Please remember, we do not repair chain rosaries but will convert them to a strung rosary - (some of our best customers are chain rosaries because of their breakage)

Thank you, the Guild
1.
REPAIRING ROSARYWORKSHOP ROSARIES
FREE - NO CHARGE
(broken under normal wear or our problem)
2.
RESTRINGING NON ROSARYWORKSHOP ROSARIES
$40 - $50 BASIC LABOR FEE
(includes basic stringing supplies) + Add cost of missing items:
(your choice of a cross, center, beads, etc.)
3.
SENDING YOUR BEADS TO MAKE INTO A ROSARY
$100 DESIGNING FEE / LABOR
(includes basic stringing supplies) + Add cost of Crucifix, Center
(your choice) and spacer beads.
TIME ESTIMATE
Usually 10 working days unless otherwise notified by email.

customer comments
"I probably only paid $9 for the rosary several years ago in Italy and it went through the wash a few times in my pockets which didn't help. I really didn't want to deal with chain rosaries and anyway, the beads and I had a history of prayer which meant a lot to me. We had gone through some pretty rugged times together and that is why I chose to have them re-strung instead of throwing them away. Thanks, they really are beautiful. As far as I'm concerned, I have my old rosary back for abut $30. M.P.C. (MI)


.


OFFICE HOURS
877 695 3561 - (weekdays 9a - 5p central)
Shopping cart - Email (24/7)
beadsong@hotmail.com