JOHN CARDINAL O' CONNOR


"He was like a tree of life for all who grasped his message"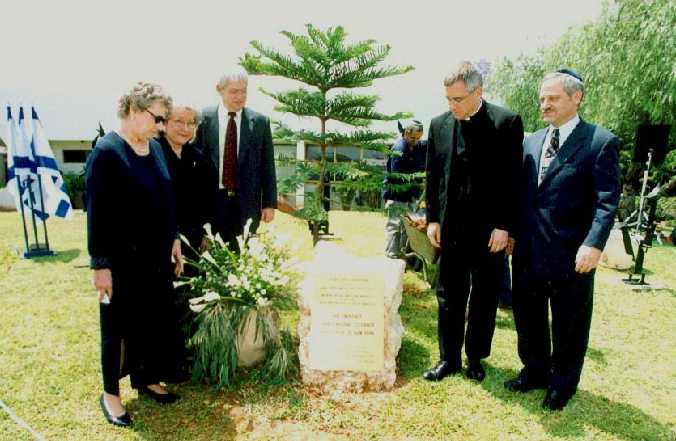 Left to Right: Mrs Mary O'Connor Ward, Ms Sandi Merle, Dr Benjamin Davidson (Director AHMC), Father James Loughran, Dr Martin Katzenstein (Head Neonatology OLM)

On May 14th a ceremony was held commemorating the Cardinal's last known project, an affiliation between an Israeli Jewish Hospital (AHMC) and A Catholic Healthcare Giver, Our Lady of Mercy (OLM). A tree was planted at the AHMC in Israel by his sister, Mary O'Connor Ward
+
The affiliation is said to be the first of its kind in 2000 years fostering medical cooperation including shared research and treatment methods and student exchanges. John Cardinal O'Connor was a great humanitarian of our times, a major advocate of improved relations between Jewish and Catholic faith groups, a man with a passion for children and for the sanctity of every human life.
+
"He was like a tree of life for all who grasped his message"
+
Mrs. Ward said of her brother at the ceremony on the hospital grounds.

JOHN CARDINAL O'CONNOR
IS REMEMBERED AS:
- A man of deep compassion, great intellect and tireless devotion to
humanitarianism
- A provider of comfort and care to the sick, elderly and disabled.
- An advocate of interfaith healing and understanding, playing a
significant role in helping to establish diplomatic ties between the Vatican and Israel.
- A man dedicating his life's work to protecting and defending the
inalienable rights of all people.

GOAL
- To create a living memorial to one of the greatest humanitarians of our time.
- To provide badly needed services and comfortable surroundings to the children of our future.
- To continue to provide the best possible facilities for all who need care, regardless of race, creed or color.