rosary workshop - museum
~+*18c BAROQUE ROSARY*+~
A RARE ROSARY OF GOLD, SILVER, PEARLS AND AMETHYST
This remarkable rosary from the 1700s is a perfect example of those seen in paintings of that period. According to Joe Perez of Church Woman Antiques (Ebay), 'Baroque Rosaries were made to be worn on special occasions and denoted the wealth and social class of the person wearing it. They were rarely used for prayer.'
OWNER OF THE ROSARY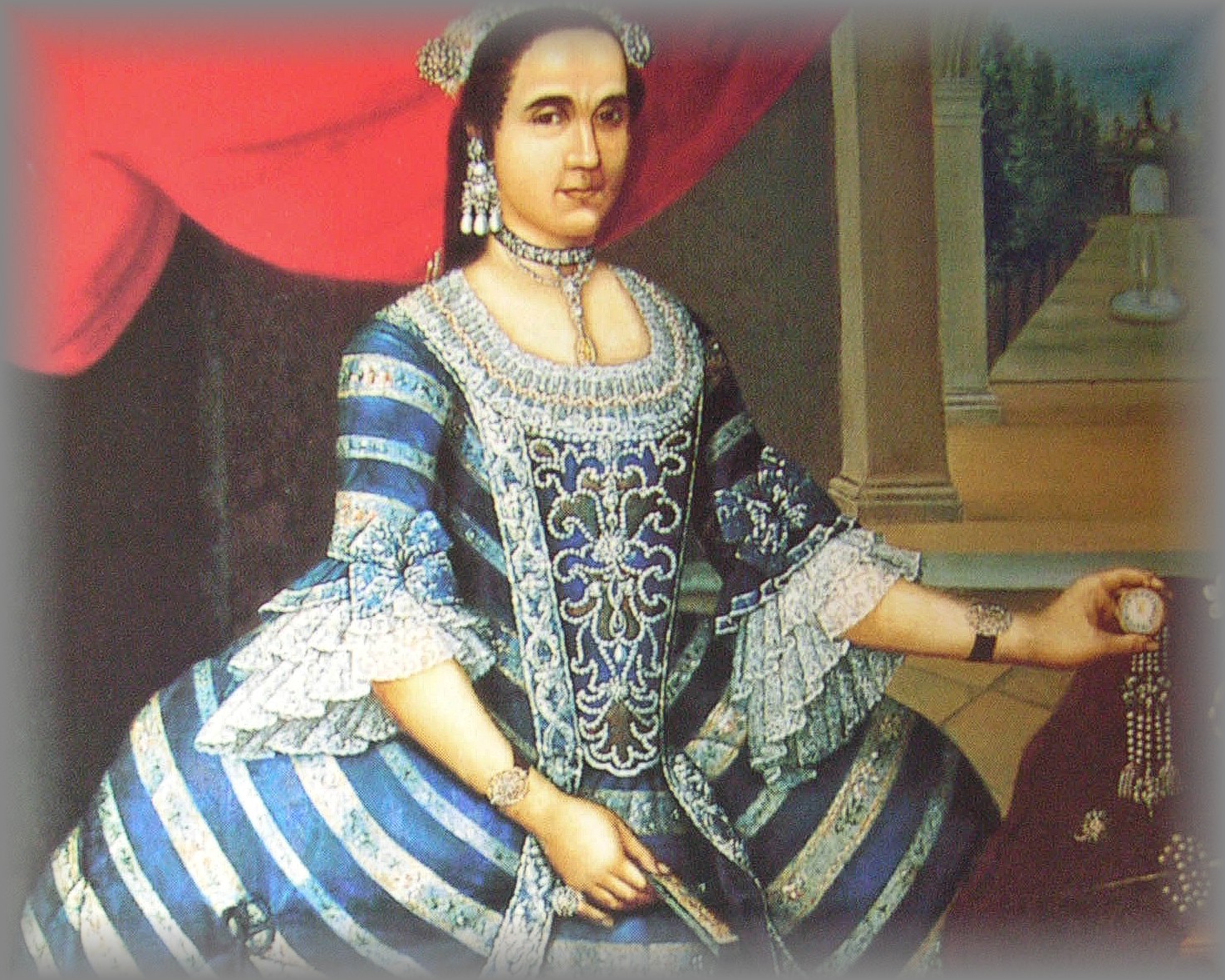 Doña Mariana Belsunse y Salazar
SPECIAL THANKS TO
CHURCH WOMAN ANTIQUES
This incredible piece has come to us on consignment for auction from a family in Peru who has had it in their collection in Palm Beach, Florida since 1980. I mention this because it is no longer possible for these treasures to leave Peru, after the 1993 law forbidding their exportation.
The current owner's great-aunt, several generations back, was Doña Mariana Belsunse y Salazar, one of the wealthiest women in Lima, Peru in the 18th century. This is the last piece from the great-aunt's estate that is not already in a private collection or museum. They have asked us to auction it in or to help the earthquake victims of Ica, Peru. The winning bidder will get our guarantee, this description, a picture of a painting of Doña Mariana, and the rosary. (for current information on availability, please visit CHURCH WOMAN ANTIQUES (EBAY).


~ CONFIGURATION ~


This exquisite rosary has 7 decades (7 sets of 10 natural pearl Ave beads) instead of the 5 we usually see. The rosary has a hanging length of 18.5 inches and the cross is 2.75 inches long. The necklace length is 24 inches and weighs 57.7 grams.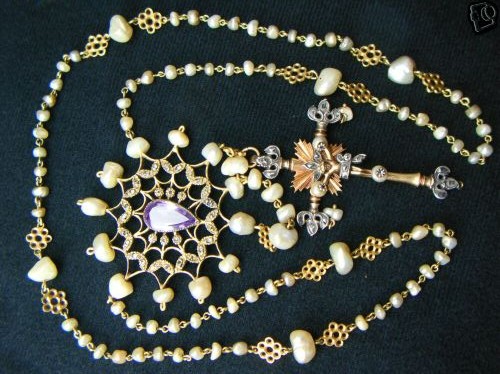 ~ BEADS ~


PEARLS, DIAMONDS,
AMETHYST, METALS
'The beads are real pearls, and there are a total of 108 of them. We are told that the loop at the bottom of the crucifix was used as a fastener to keep the cross in place with a pin, and never had a pearl. There are 26 diamonds on the Crucifix and 54 around the hand cut Amethyst (.75 in x .25 in wide), for a total of 80 diamonds of various sizes. Gold – All the metal parts are gold; white, yellow and rose color for the crucifix. The entire weight is 57.7 grams.
+
DIMENSIONS
Dimensions – The rosary has a hanging length of 18.5 inches and the cross is 2.75 inches long. The necklace length is 24 inches.
+
APPRAISE VALUE
Appraised Value – We have taken the rosary to several knowledgeable collectors, and prestigious jewelry stores for a "professional-courtesy" appraisal. The appraisals have all been between, $10,000-$15,000.

~ MEDALLION ~


The Medallion, which acts as the 'rosary center' where the loop and pendant converge, is a starburst of gold set with 54 diamonds that frame a large, faceted, hand cut amethyst stone. Joe Perez tells us the stone measures .75 inches lng and over .25 inches across. There are a total of 12 natural pearls at the tips of the starburst frame.

| | |
| --- | --- |
| | |
| OBVERSE | REVERSE |
| | |
| PEARL AVE / PATER BEADS | CLOSE UP / AMETHYST STONE |

~ CRUCIFIX ~


Joe Perez of Church Woman Antiques shares that the crucifix is 2.75 in long from tip to tip. Crucifix is made of white, yellow and rose coloredgold, Note clip on the reverse side so the crucifix may be removed. He explained that the ring at the bottom was for holding the cross in place.

| | |
| --- | --- |
| | |
CLOSEUP OF CORPUS
REVERSE SHOWING CRUCIFIX CLIP

~ PORTRAITS ~


Two excellent portraits showing the wearing of rosaries as an ornamental. As Joe Pereze points out, 'Baroque Rosaries were made to be worn on special occasions and denoted the wealth and social class of the person wearing it. They were rarely used for prayer.'
+
In an overview of this period, (17-19c) it was very popular for women of wealth to wear elegant rosaries to not only show off their place in society but as a fashion statement. To have one's portrait painted wearing a rosary was quite common amongst royalty and the wealthy. In some social circles it was very important to do this to point out ones personal or family religious affiliations. If you didn't, you were considered a pagan or a non believer.

| | |
| --- | --- |
| | |
OWNER OF THE ROSARY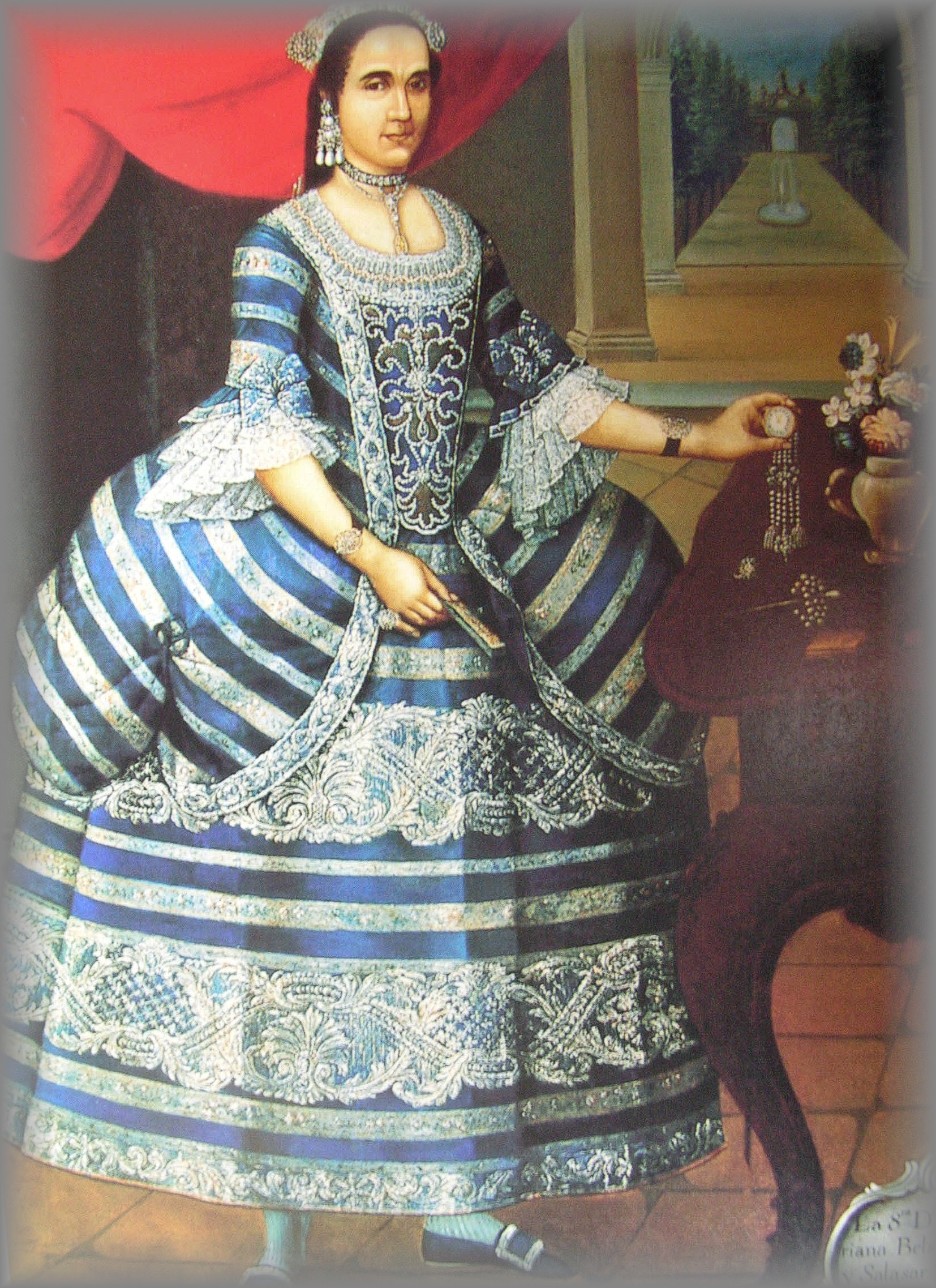 Doña Mariana Belsunse y Salazar
(portrait given to the Brooklyn Museum of Art
in New York. by the family)
ROSARY WORKSHOP
MISSION STATEMENT
Our vision is to provide the finest handmade rosaries, chaplets and other fine religious art forms for personal worship we can make using the finest supplies available. The Guild believes the work of our hands should give visual Glory to God, therefore for us, the best for you is very, very important.
+++
QUESTIONS?
copy and paste
beadsong@hotmail.com
OR CALL WEEKDAYS - 9 to 5central
877.695.3561

MUSEUM - HISTORY - PRAYER
STUDY - SERVICE - COMMUNITY
ST MICHAEL ARCHANGEL
PRAY THE ONLINE ROSARY NOW
to return to page you were on,
pl use your back button
TOP OF PAGE

OFFICE HOURS
877 695 3561 - 9am - 5pm central)
WEEK DAYS - MT- TF - (closed wednesdays)
Shopping cart - Email (24/7)
beadsong@hotmail.com
.