birthstone, birthday rosaries and chaplets -Mazzaroth series
JANUARY SKY II & III
FROM THE ROSARY WORKSHOP COLLECTION
CAPRICORN - The Goat / Fish - ('Take a he-goat for a sin offering' - LEV9:3)
'slaying of the atonement'
+

ROSARIES DEDICATED TO OUR LADY: January Feast Days: Solemnity of Mary (1st)
Our Lady of Prompt Succor (8th)

. +

The HEAVENS DECLARE the GLORY of GOD' (Psalm 19:2)
JANUARY - CAPRICORN - The Goat / Fish - 'slaying of the atonement' - Garnet: For most of our life we have marveled over the silent heavens above. On a clear night it can appear like a warm assuring blanket, even in the cold. We hear stories about how each star is a tiny 'crack in the heavenly floor', shining through to remind us of God's glory. Angels in the sky! So many things run through our heads. We forget that people for thousands of years have done the same thing. But when God created the stars, did he just toss them randomly into space - or did he write a message of hope and salvation for all his children to see from the days of the fall of Adam? Scripture tells us he placed and named each of the stars. Why?
+
12 SIGNS, 12 TRIBES, 12 STONES, 12 STARS
How better to reach all his children than through the stars above. Did he write his love story through 12 signs of the Mazzaroth about the coming of his son before Christ was born? He could - but did he? Today we know there are 12 constellations in the sky, one for each of the 12 tribes of Israel - 'in the order of their birth', commanded God. The most commonly known constellation /tribe combination is Leo (Christ), Leo the King of Judah. (the tribe of Judah). It is the last constellation to be read in the Hebrew Calendar, Virgo (Virgin) the first. Each tribe was also assigned a stone by God to Moses. A stone to be worn on the ancient priests garment called the Ephod (Breastplate of Decision). And Revelation 12: 12:1. And a great sign appeared in heaven: 'A woman clothed with the sun, and the moon under her feet, and on her head a crown of twelve stars.' What does it mean? (The Church? 12 Apostles? 12 Tribes of Israel? The circular starry story of Her son's life?) The number 12 also symbolizes 'governmental perfection' reminding us that God is in control. Lets go on:

+
BREASTPIECE OF DECISION
AS WORN BY ELI AS HE LISTENS TO SAMUEL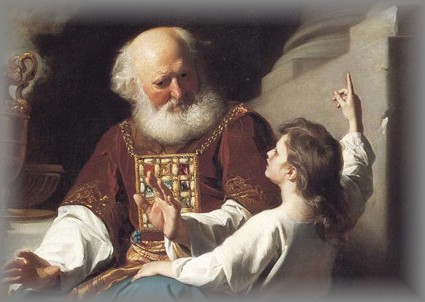 PAINTING BY JOHN SINGLETON COPLEY (1780)
12 STONES, 12 TRIBES OF ISRAEL
(priest wearing the Ephod)
+
THE HEBREW CALENDAR
The first sign or constellation in the story of the coming Jewish Messiah according to the ancient Hebrew Calendar is Virgo (Virgin). It lies between LIBRA (Scales of Justice) and LEO (Christ the King). It is one of the largest constellations in the sky. Ancients saw it as the Virgin (seed of the woman, virgin birth) holding an ear of corn in her left hand (promised seed), a baby across her waist (the coming Messiah) and a branch in the right hand (shoot). See stars of Virgo below.)
+
HE NUMBERS THE STARS - CALLS EACH BY NAME
What do these ancient star names reveal? Like Virgo, Many constellations still contain stars that carry their original names - names that point out the story of redemption in the sky. To understand better about their meaning and how they told the story, continue reading the information below. Does the word 'Astrology' or 'Horoscope' creep into your head? Forget it, we are uncovering the lie and giving the heavens back to God. We point them out, you decide.
IDENTIFYING THE DIFFERENCE BETWEEN
ASTRONOMY AND ASTROLOGY
PSALM 147: 2-5
2 The LORD rebuilds Jerusalem, gathers the dispersed of Israel, 3 Heals the broken hearted, bind up their wounds, 4. Numbers all the stars, calls each of them by name.5 Great is our Lord, vast in power, with wisdom beyond measure

SPECIAL PRAYER



~ CRYSTAL GARNET ROSARY II ~



BEADS, GIVEN TO GOD

LEVITICUS 9:3,15
3 Tell the elders of Israel, too: Take a he-goat for a sin offering, a calf and a lamb, both unblemished yearlings,for a holocaust, -- 15 Thereupon he had the people's offering brought up. Taking the goat that was for the people's sin offering, he slaughtered it and offered it up for sin as before.
PURE CRYSTAL SWAROVSKI (AUSTRIA) FACETED PATER CUBES.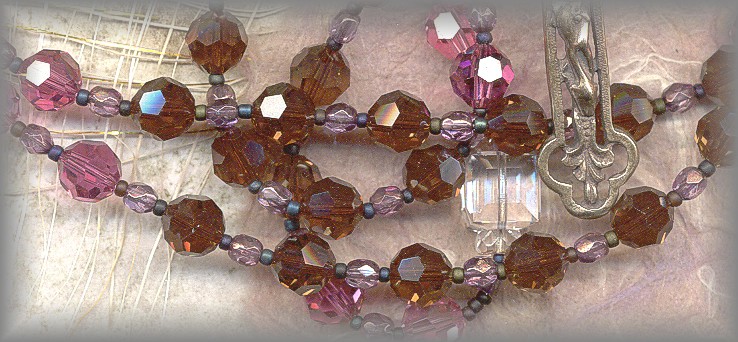 AVES ARE SWAROVSKI GARNET, SHADING DOWN TO RUBY THEN LT. ROSE.
(SEE IMAGES BELOW FOR A BETTER COLOR IMAGE OF GARNET)
+
ISAIAH 53
Who would believe what we have heard? To whom has the arm of the LORD been revealed? 2 He grew up like a sapling before him, like a shoot from the parched earth; There was in him no stately bearing to make us look at him, nor appearance that would attract us to him. 3 He was spurned and avoided by men, a man of suffering, accustomed to infirmity, One of those from whom men hide their faces, spurned, and we held him in no esteem. 4 Yet it was our infirmities that he bore, our sufferings that he endured, While we thought of him as stricken, as one smitten by God and afflicted. 5 But he was pierced for our offenses, crushed for our sins,Upon him was the chastisement that makes us whole, by his stripes we were healed.
6 We had all gone astray like sheep, each following his own way; But the LORD laid upon him the guilt of us all. 7 Though he was harshly treated, he submitted and opened not his mouth; ...
... Like a lamb led to the slaughter or a sheep before the shearers, he was silent and opened not his mouth. 8 Oppressed and condemned, he was taken away, and who would have thought any more of his destiny? When he was cut off from the land of the living, and smitten for the sin of his people, 9 A grave was assigned him among the wicked and a burial place with evildoers, Though he had done no wrong nor spoken any falsehood. 10 (But the LORD was pleased to crush him in infirmity.) If he gives his life as an offering for sin, he shall see his descendants in a long life, and the will of the LORD shall be accomplished through him. 11 Because of his affliction he shall see the light in fullness of days; Through his suffering, my servant shall justify many, and their guilt he shall bear. 12 Therefore I will give him his portion among the great, and he shall divide the spoils with the mighty, Because he surrendered himself to death and was counted among the wicked; And he shall take away the sins of many, and win pardon for their offenses.
A FILIGREE CRUCIFIX AND CENTER
HELP THIS ROSARY KEEP ITS LIGHTNESS.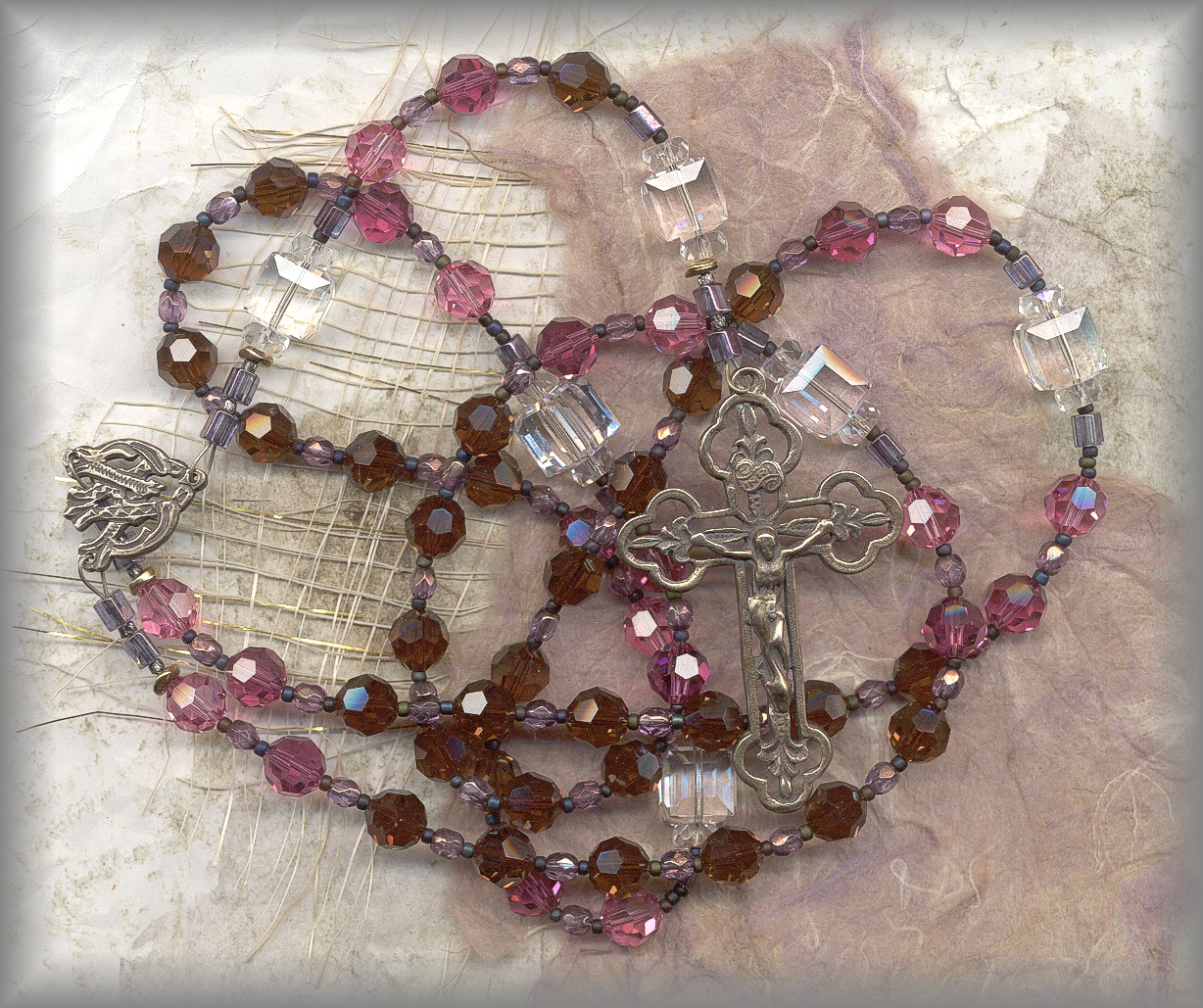 for more information, pricing or to order, click icon above
25 in
PRICES SUBJECT TO CHANGE WITHOUT PRIOR NOTICE
all metals are handcast from antiques and vintage pieces
in sterling and solid bronze

KINDER TO



~ CRYSTAL GARNET CHAPLET ~



THE HANDS
JOHN 12:24
24 Amen, amen, I say to you, unless a grain of wheat falls to the ground and dies, it remains just a grain of wheat; but if it dies, it produces much fruit.
ALL IN ONE LOOP FOR EASIER PRAYER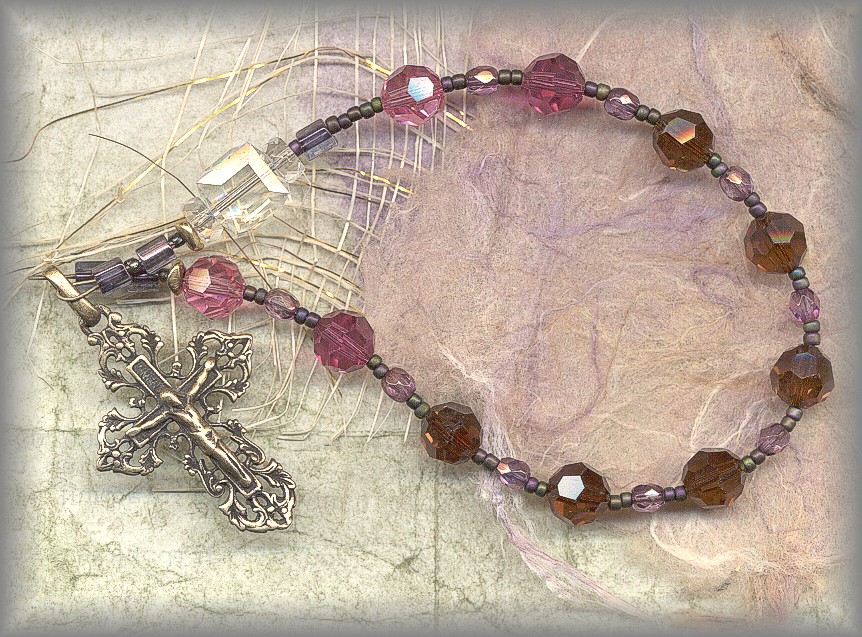 for more information, pricing or to order, click icon above
6 in
SEE DESCRIPTION OF ROSARY ABOVE
PRICES SUBJECT TO CHANGE WITHOUT PRIOR NOTICE
all metals are handcast from antiques and vintage pieces
in sterling and solid bronze
\
PSALM 21:12
Though they intend evil against you, devising plots, they will not succeed, 13 For you will put them to flight; you will aim at them with your bow.

SPECIAL PRAYER



~ GARNET 'SLAB' ROSARY III ~



BEADS, GIVEN TO GOD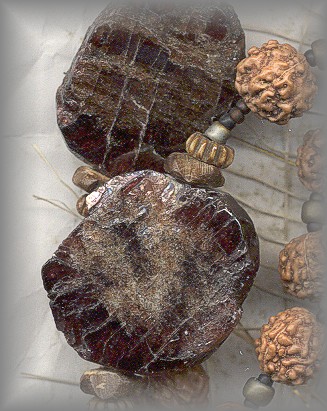 WHAT ARE GARNET SLABS?
Larger mined chunks of translucent Garnet have been sliced to show their rich beauty. Sides are naturally shaped as is the overall bead, which adds to the smooth, cut surface of each slab. Irregularities add to this rare and beautiful bead. Note the surface appears cracked but this does not weaken the bead. It simply becomes a texture along with the inner, somewhat clear radiance of the stone. Dark in appearance, when the light catches the inclusions, deep garnet red comes forth in unexpected places. We fell in love with each one! Rare and very limited. Our first rosary in this series, the 'mine pebbles' sold out in less than a month. Only wish you could hold them to capture their true beauty!
TOUGH, NATURAL 1 in SLABS OF GARNET, STRAIGHT FROM THE MINES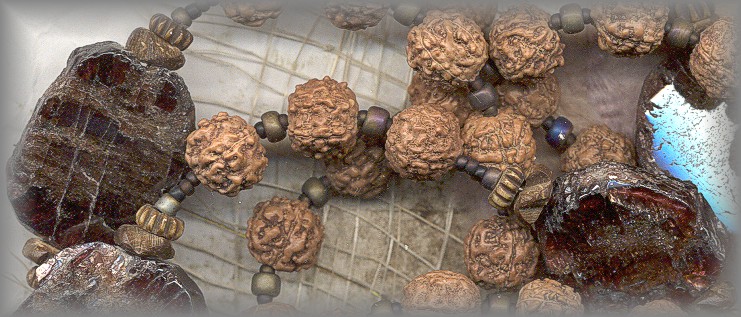 ARE GIVEN AN INTERESTNG LOOK WITH RUDRAKSHA SEEDS FOR AVES..
JOB 38:31
31 Have you fitted a curb to the Pleiades, or loosened the bonds of Orion? 32 Can you bring forth the Mazzaroth in their season, or guide the Bear with its train? 33 Do you know the ordinances of the heavens;can you put into effect their plan on the earth?
ZECHARIAH 12:9-10
9 On that day I will seek the destruction of all nations that come against Jerusalem. 10 I will pour out on the house of David and on the inhabitants of Jerusalem a spirit of grace and petition; and they shall look on him whom they have thrust through [Pierced], and they shall mourn for him as one mourns for an only son,and they shall grieve over him as one grieves over a first-born.
A VERY SIMPLE YET DEEPLY RICH, THIS
ROSARY WILL NOT LAST LONG - OUR FIRST ONE IS GONE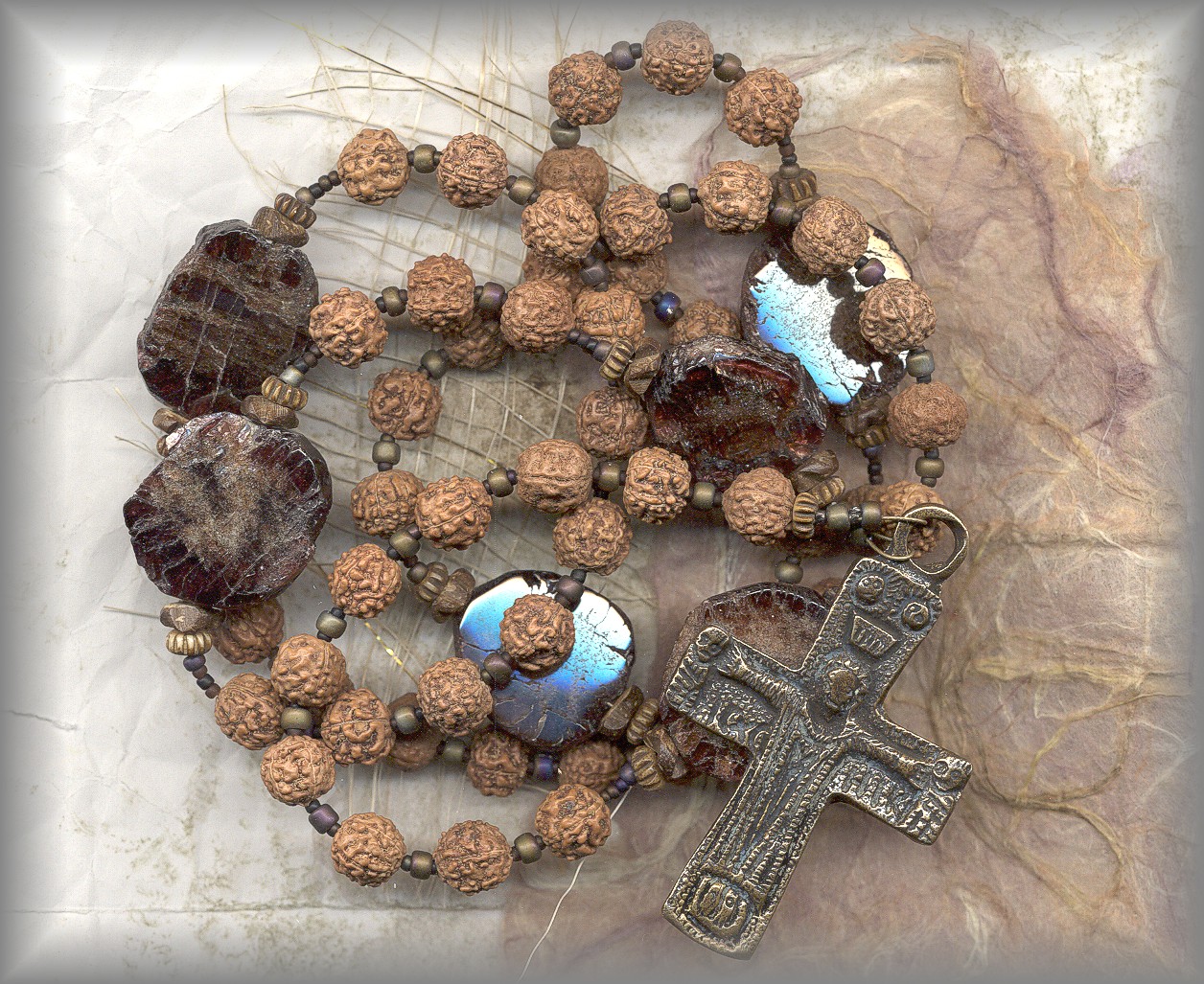 for more information, pricing or to order, click icon above
CRUCIFIX CAST FROM TRADITIONAL
BYZANTINE CRUCIFX
22 in
PRICES SUBJECT TO CHANGE WITHOUT PRIOR NOTICE
all metals are handcast from antiques and vintage pieces
in sterling and solid bronze

KINDER TO



~ GARNET 'SLAB' CHAPLET ~



THE HANDS
PSALM 19:2
The heavens declare the glory of God; the sky proclaims its builder's craft. 3 One day to the next conveys that message; one night to the next imparts that knowledge. 4 There is no word or sound; no voice is heard;5 Yet their report goes forth through all the earth, their message, to the ends of the world.
RARE GARNET SLABS WITH RUDRAKSHA
SEED AVE'S GIVE THIS ROSARY A NATURAL FEEL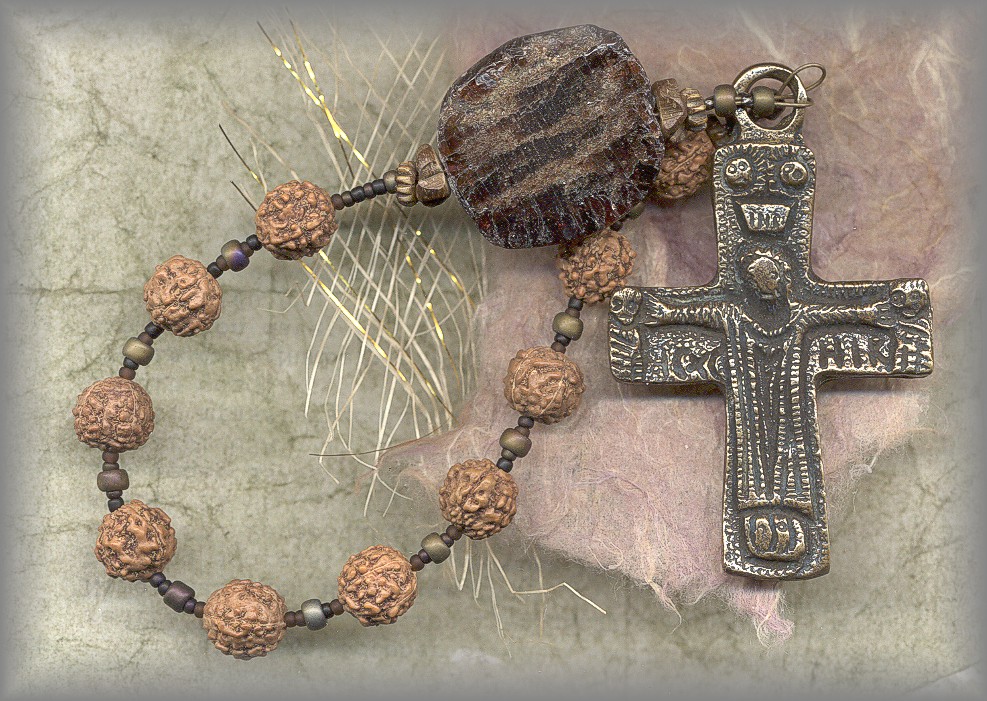 for more information, pricing or to order, click icon above
6.5 in.
PRICES SUBJECT TO CHANGE WITHOUT PRIOR NOTICE
all metals are handcast from antiques and vintage pieces
in sterling and solid bronze
LAMINTATIONS 3:12,13
12 He bent his bow, and set me up as the target for his arrow. 13 He pierces my sides with shafts from his quiver.

ANCIENT NAMES STILL USED TODAY



~ THE STARS of CAPRICORNUS ~



AND THEIR MEANINGS:
PSALM 38: 1-3
1 A psalm of David. For remembrance. 2 LORD, punish me no more in your anger; in your wrath do not chastise me! 3 Your arrows have sunk deep in me; your hand has come down upon me.
*AL GEDI*
(on goat horn) Arabic: 'Goat or Kid'

*DENEB AL GEDI*
(On fish tale) Arabic: 'The sacrifice (Kid) cometh', 'Lord', 'Judge'

ISAIAH 44:3
3 I will pour out water upon the thirsty ground, and streams upon the dry land; I will pour out my spirit upon your offspring, and my blessing upon your descendants.
Read the THE FULL STORY in 3 parts
ASSOCIATED CONSTELLATIONS
to see how associated constellations and the ancient star names confirm the story of the coming of the Jewish Messiah and Salvation History in the heavens.
+


WHAT DOES A CATHOLIC



~ ASTRONOMY VS ASTROLOGY ~



SCRIPTURE SCHOLAR SAY?
THE ZODIAC DOES NOT HAVE ROOTS IN HOROSCOPES
What we know as the star constellations - pictures in the night sky - are often called in English the "signs of the Zodiac", is known in Hebrew as "the Mazzeroth", star constellations placed by God Himself, Job 38:31; Isaiah 13:10; Amos 5:8. This placement of the stars by God was done to tell the Gospel plan of redemption before the Bible was put into writing. The word Zodiac is a term used in astronomy, Job 9:9 (lb). God's message in the stars where the book of creation speaks to man of God's awesome power, Psalm 19:1–6 (Note words "speech," "language," "voice" in the text. Then compare verses 7–13.).
+
THE BIBLE CONDEMNS ASTROLOGY
The science of Astronomy is NEVER to be confused with ASTROLOGY which is fortune telling and the Bible condemns. ASTRONOMY is the science dealing with the phenomena outside the earth's atmosphere but especially concerned with the observable arrangements, motions, and characteristics of the heavenly bodies planets, stars, asteroids and universes in space. The word "astronomy" is based on two Greek words meaning "the law of the stars."
+
ASTRONOMY AND ITS VALUES
Astronomy is by no means a modern science. Human beings have always been preoccupied with the heavens. The concern of the earliest civilizations with the universe appears to have been mainly intellectual curiosity and the need for navigational orientation were certainly additional factors. (Also remember the star of Bethlehem that guided the 3 kings to the child Jesus. They have been called 'readers of the stars', and 'astronomers'. The term astrologers is questionable)
+
WHAT DOES THE BIBLE SAY?
The Bible provides some interesting insights about astronomy. According to Genesis 1:14–19 the sun and moon, along with the stars, have the function of giving light on the earth, determining the seasons, and functioning as "signs." The word "season" may denote festal seasons as well as the annual seasons. The Hebrew calendar was a lunar-solar calendar similar to that of the Babylonians. Hebrew festal seasons were based on the phases of the moon. The function of the heavenly bodies as signs seems to relate to their delineation of the heavens, permitting human beings on earth to orient themselves, navigate land and the high
seas and know the stars were created by God.
+


PRESENTATION



~ EPHOD IMAGE ~



AT THE TEMPLE
The 'Breastplate of Decision' was worn
by the Priests from the time of Aaron, given to Moses by God
Note the 3 rows of 4 stones, one for each of the 12 tribes of Israel.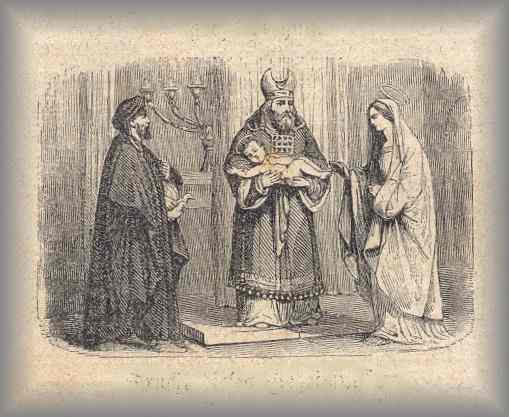 Here, in this old 1867 image, we see the child Jesus being presented
at the temple by his parents which was the tradition.. He is reaching
out for Joseph on our left and is mother Mary on our right.



+
JOB 38:31-32
31 Have you fitted a curb to the Pleiades, or loosened the bonds of Orion? 32 Can you bring forth the Mazzaroth in their season, or guide the Bear with its train? 33 Do you know the ordinances of the heavens; can you put into effect their plan on the earth?
THE STORY - WHAT IS THE MAZZAROTH?
(read how the stars tell the ancient story of the Jewish Messiah)
++



ROSARY WORKSHOP
MISSION STATEMENT
Our vision is to provide the finest handmade rosaries, chaplets and other fine religious art forms for personal worship we can make using the best supplies available. The Guild believes the work of our hands should give visual Glory to God, therefore for us, the best for you is very, very important.

(Hebrew calendar begins with September)
SEPTEMBER - OCTOBER - NOVEMBER - DECEMBER
JANUARY - FEBRUARY - MARCH - APRIL
MAY - JUNE - JULY - AUGUST
(links above take you to your birthday rosary)
+
read what this link has to say about
Astronomy / Astrology - (13th century)
GOD THE GEOMETER
RBS2 index - TOP