ROSARY WORKSHOP
MISSION STATEMENT
Our vision is to provide the finest handmade rosaries, chaplets and other fine religious art forms for personal worship we can make using the best supplies available. The Guild believes the work of our hands should give visual Glory to God, therefore for us, the best for you is very, very important
+
DON'T MISS ROSARY BELOW

"SPARK OF LIGHT"
(SAINT. JOHN XX111)

(translucent Labradorite)

(click icon for larger image)
for more information click link below
RSTS.21420
MAY is devoted to
~ MARY, MOTHER OF JESUS ~
26 ... the angel Gabriel was sent from God to a town of Galilee called Nazareth,27 to a virgin betrothed to a man named Joseph, of the house of David, and the virgin's name was Mary. 28 ... "Hail, favored one! The Lord is with you... 30 ..."Do not be afraid, Mary, for you have found favor with God. 31 Behold, you will conceive in your womb and bear a son, and you shall name him Jesus.
Luke 1:28-35, 42-48
+
VIRGO MARIA
Europe / 1880s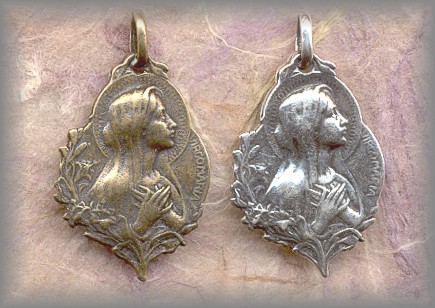 MVM.01 - (1.25 + in)
(pricing ? order) + (for more see link)
or search below:

top of page

"mediatrix of all grace"
MARY: painted by St Luke ( carbon dated1st century )
FOR MORE INFORMATION SEE:
"Advocata Nostra"
inspired by all who choose a life of service
VOCATIONS' - DEDICATED TO YEAR OF PRIEST
SHOPPING
CART - TOP of PAGE