(click icons for larger images)
(For more information, scroll down)
+
NEVER UNDERESTIMATE
CH: CHAPLETS INDEX
THE POWER OF THE ROSARY (or CHAPLET!)
The first Hail Mary was brought to earth by Angel Gabriel to Mary. Paul VI called the rosary "a compendium of the Gospel." Pio called the rosary, "his weapon".
+
TWO NEW ROSARIES
+
3 SETS OF 4 BEADS
INSPIRED BY PERE MARQUETTE
The 2 chaplets below represent old chaplets with a history. Check links for more information
PERE MARQUETTE SJ II
IMMACULATE CONCEPTION III

CICD.51122

PERE MARQUETTE SJ III
IMMACULATE CONCEPTION III

CICD.51132
(click icon for larger images)
(for more information, pricing / order, click link)
+
In these unknown times
REMEMBER POWER OF ST BENEDICT
(click icons for larger images)
+
read more on this link
BENEDICT PRAYERS

CELTIC 'RING MONEY'
We have been looking for a metal 'Finger' or 'Thumb' Ring that would not look commercial and it was right under our nose. These are hand cast from ancient Celtic 'Money Rings' or Celtic 'Ring Money! A natural for our Penal Chaplets.
+
RAINBOW CHAPLET
(inspired by all who have suffered yet remain in hope)
(click icons for larger images)
(to read more about this chaplet please click link above)
+

CLOSEUP OF PENAL CHAPLETS DATED 1722
(FOUR COLORS BELOW: ROSE, GREEN, EARTH, BLACK/GRAY)
(click icons for larger images)
(for more information or to order click link above)
+
"TABLECUT BEADS" AND "CELTIC RING MONEY"
(money rings were used for commerce in ancient trade. (Some authorities date the use of
ring money from 800 to 500 BC (Late Bronze Age), but it may have been used as late as 100 BC)
+

CHAPLETS OF ST. JUDE
HAND FACETED CHRYSOCOLLA / ST. JUDE FIGURAL MEDAL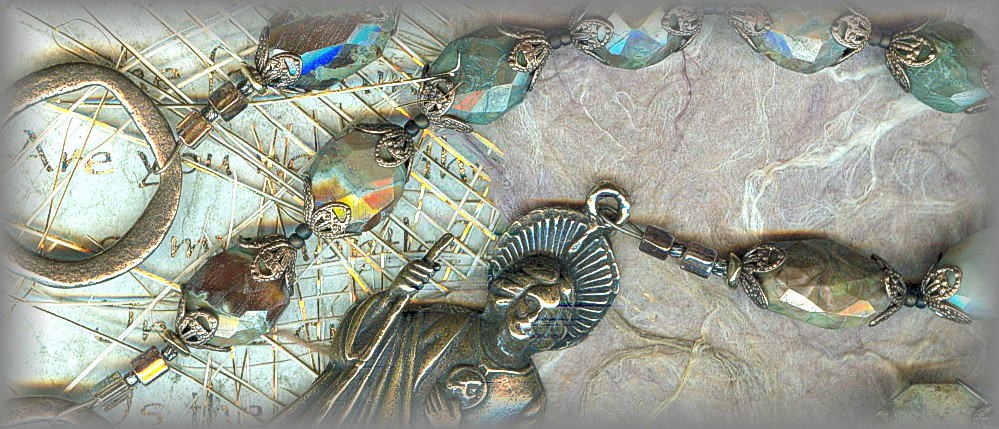 CSJD.51550 - PATRON OF HOPELESS CAUSES
In these troubled times, St. Jude is more than ready to interceded for us for peace and healing of our hearts and body, including concerns about our country. Search out the most recent chaplets below. All available in 9 or 10 beads - or - 3x3 beads. depending on your personal prayer tradition.
+

3 x 3 BEADS = 9 BEAD CHAPLET
(click icons for larger images)
(for full collection, and more information see)
ST JUDE CHAPLETS
see the chaplet
that speaks of Christs life:
GIFT OF LIFE CHAPLET
also see this wonderful selection below
using medalist Egino Weinert - Vatican artist
NEW 9 - 10 BEAD CAPLETS
inspired by holy people and special events
ctionalso see complete list of all our chaplets in chaplet index
NEW CHAPLETS
-
READY FOR BATTLE
MORE 10 BEAD CHAPLETS
-
SIGNATURE CHAPLETS
-
PRAY FOR PEACE
special devotional chaplets dedicated to favorite saings
CHAPLET INDEX
-
VISITORS COMMENTS
MORE LINKS