SACRED HEART CHAPLETS SHOWN ABOVE
(click icons for larger images)
(For more information, scroll down)

JULY is devoted to the
~ PRECIOUS BLOOD ~
OF JESUS
8 realizing that you were ransomed from your futile conduct, handed on by your ancestors, not with perishable things like silver or goldl 19 but with the precious blood of Christm as of a spotless unblemished lamb.* 1 Peter 1:87-19
+
FILIGREE EUCHARIST
France / Art Nouveau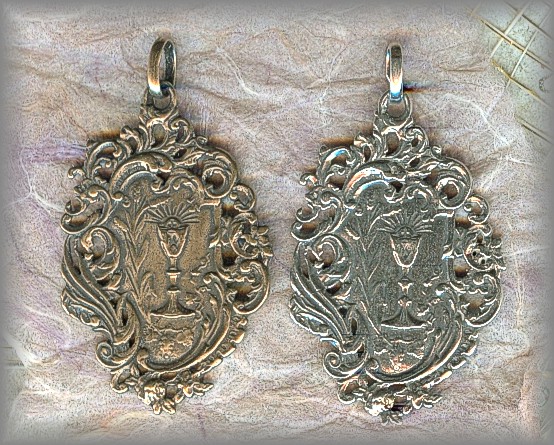 MEH.07 - (1.75 in)
(3in x 2.25)
(pricing)
for more medals see
PRECIOUS BLOOD of JESUS
be sure to see the new
MONTHLY DEVOTIONAL SERIES
Each month is dedicated to a different saint by the church. Here we honor each as they comes up for your devotion, along with scripture. Enjoy learning more about each saint monthly.


NEVER UNDERESTIMATE
CH: CHAPLETS INDEX
THE POWER OF THE ROSARY (or CHAPLET!)
The first Hail Mary was brought to earth by Angel Gabriel to Mary. Paul VI called the rosary "a compendium of the Gospel." Pio called the rosary, "his weapon".
"GATE OF HEAVEN" CHAPLET
When he calls them, they answer, "Here we are!" (BARUCH 3:34-36)
(dont miss this 'ILTTLE CROWN OF STARS' chaplet)

TWO NEW ROSARIES
+
3 SETS OF 4 BEADS
INSPIRED BY PERE MARQUETTE
The 2 chaplets below represent old chaplets with a history. Check links for more information